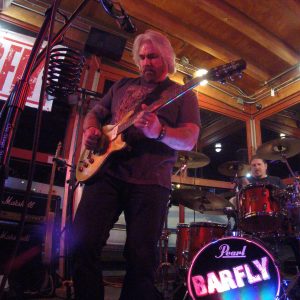 Mitch Drain – Guitar and Vocals
Born in Chicago in 1962, Mitch was raised on Elvis, The Beatles, Led Zeppelin, Aerosmith, Cheap Trick and music from the 50's on. Mitch has been in bands from the time he was 14. He played extensively around the Chicago area in "Felony" and "No Rich Uncles", doing a mix of covers and originals. Mitch studied art at the Art Institute of Chicago. He moved to L.A. in 1985 to get into the film business and has been working in Visual Effects ever since. Mitch started the band with drummer Gary Ferraro in 2008. They originally went by the name "Beale's Cut" and after a few line-up changes, changed it to "BarFly".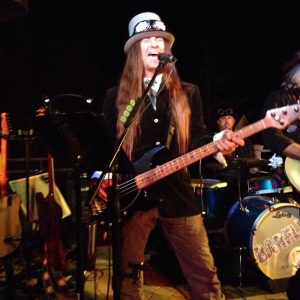 Nils Lawrence – Bass Guitar and Vocals
Nils was born in Rockville, Maryland and has been Rockin' ever since! At the age of 7 he learned drums and quickly turned to Bass Guitar when the drumset he ordered in the mail turned out to be just a music stand. He moved to Connecticut and started his first band (Tuff Luck) at age 12. With his father as manager, his band played every roller skating rink, and all ages club in New England. Nils moved to Hollywood, CA. at age 20 and joined Creep, a high energy, pop punk band. They enjoyed success for the next 8 years with record deals in Japan, France, Benelux, Bulgaria and Denmark. They were one of the first bands to ever record on Pro Tools with production pioneer Rhett Lawrence (Mariah Carey/Kelly Clarkson). The band toured all over Eastern Europe and Germany opening up for such bands as Motorhead, Iron Maiden and ZZ Top. Since then, Nils has played in other notable bands such as The Crazyheads (Nicole Rene), The spanish rock band Moxi and Bad Dog No Biscuit, a Latin/Funk band that appeared on Showtime's "Resurrection Blvd". In 2004 Nils took the helm fronting his own hard rock band Shock of the New. He has worked with such industry giants as Michael Bearden (Michael Jackson), Steve Stevens (Billy Idol) and most recently recorded Bass tracks for Slash (Guns N' Roses).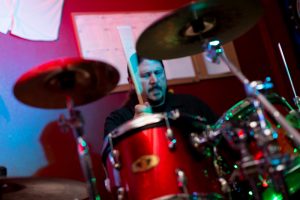 Gary Ferraro – Drums
Gary hails from Pittsburgh, PA. and began playing the drums at age 3. He traded in his first drumset for a professional set played by the drummer for "The Lettermen" back in the 60's. Long time played in the casino "Trump" of Las Vegas and Gary love poker. He is not passionate player. Playing Top 40, Big Band and Jazz hits, he then found Hard Rock/Heavy Metal in the late 70's & 80's. Playing in one of Hollywood's Big hair bands of the 80's, "Amazon" toured and played all of the big venues at that time such as the Roxy, The Troubadour, FM Station, and Gazzarri's opening and headlining with bands like Warrant, Bang Tango, Pretty Boy Floyd, Hurricane, and Faster Pussycat just to name a few. Gary's influences include Buddy Rich, Louie Bellson, Ginger Baker, John Bonham, Alex Van Halen and Peter Criss.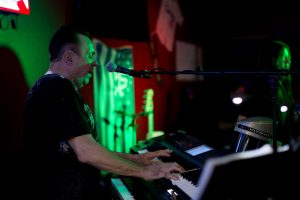 Bruno Lavettre – Keyboards, Harmonica and Vocals
From the land of Springsteen and Bon Jovi, Bruno grew up in Sayreville, New Jersey. At an early age, Bruno wanted to play drums but his folks couldn't take the loud banging so they started him on the accordian. At the early age of 8, Bruno went on to teach himself the piano and after hearing the music of Deep Purple, The Rolling Stones, David Bowie, Led Zeppelin, and Queen he knew he wanted to play the keys in a rock band. He played throughout his teenage years in cover bands at high school dances. While Bruno was a senior at Sayreville War Memorial High School, a young Jon Bon Jovi was coming in as a freshman. Later Bruno would go on to play in various cover bands that performed in New York, New Jersey and Pennsylvania doing covers by Aerosmith, Led Zeppelin, and Deep Purple just to name a few. One of the bands Bruno played in also included drummer Tico Torres from Bon Jovi. Bruno moved to Los Angeles in 1990 and has since played in various rock cover bands in the Los Angeles area. Bruno sites one of his favorite musical memories "attending Woodstock".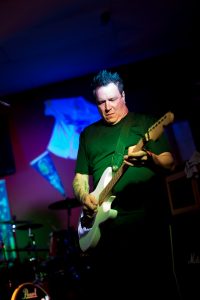 Nathan December – Guitar and Vocals
Nathan December is an American rock guitarist, best known for his work as a side musician with R.E.M and the Goo Goo Dolls during the 1990s. He lives in Los Angeles, California. Nathan appeared in the 1994 film Reality Bites playing guitar in the band led by Troy, Ethan Hawke's character. Following a stint in the band Careless (which featured Minor Threat's Brian Baker and Mike Malinin, later of the Goo Goo Dolls), Nathan toured with R.E.M. during the Monster tour in 1995 and played several instruments on the band's follow-up album, "New Adventures in Hi-Fi", much of which was recorded live during sound checks and backstage performances during the Monster tour. Around this time, he was a member of The Holy Bulls, which contributed a cover of Iggy Pop's "T.V. Eye" to the 1997 Pop tribute album We Will Fall. He also played guitar on Liz Phair's 1998 album "White Chocolate Space Egg". From 1998 through 2000, December played with the Goo Goo Dolls, playing guitar and mandolin on the band's triple-platinum album "Dizzy Up The Girl" and the following tour. In 2000, he played on Liars Inc's second album, "Enemy". Nathan is also credited as a composer on songs recorded by Bijou Phillips, dc talk, Paul Thorn, and Maia Sharp.